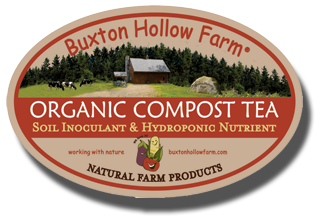 Aerated compost teas are the latest in scientific organic research today. In many ways, aerated teas offer greater benefits than classic compost, manure, or other homemade foliar teas. Instead of just brewing teas for quick valuable water soluble nutrients from the compost or manure, you can breed a larger population of beneficial aerobic bacteria and fungi in the tea. It is the microherd in our soil, compost, and teas, which is really more important in soil development and disease control than just the soluble nutrients.
Aerobic microherd populations reduce offensive smells in compost piles, the compost teas, and the soil. Aerobic microherds also break down poisons and pathogens into safe nutrients in hot compost piles and aerated compost teas. Recent research has proven that the aerobic microherd populations fight diseases, bad soil and plant pathogens better and supply more power to your soil's total health and texture.
Keep in mind that all types of organic and natural foliar teas are designed to complement and enhance, not replace, basic composting, green manuring, and organic mulching techniques in your garden. The soil microherd continues over months and years to eat up insoluble organic matter in the existing soil and the extra soil amendments and break them down into more available soluble nutrients for plants later in the year. Bottled teas can continue to keep alive for up to 10 days in a watery solution.
You can expect different microbial population levels in your tea based on weather, climate, temperature, seasons, etc. In the summertime you can expect your teas to brew faster and get to your optimal microbial levels faster than in cooler fall weather.
Aerated teas can also be used to greatly speed up the decomposition process of hot compost piles. The extra aerobic microbes in the tea will breed and cooperate with the aerobic microbes in the organic matter in the compost pile.
Soil drenches are best for building up the soil microbial activities and supplying lots of beneficial soluble NPK to the plant's root system and the topsoil texture.
Foliar feeds are best for quick fixes of trace elements and small portions of other soluble nutrients into the plant through its leaves. Foliar feeds are also good for plant disease control. Foliar feeds work best when used with soil drenches or with lots of organic mulches around plants. You can poke holes in the soil around crop roots with your spade fork, to get more oxygen in the soil to further increase organic matter decomposition and increase microbial activity in the soil.
BUXTON HOLLOW FARM - COMPOST TEA
Organic Gardening Products