Organic Farm Products & Compost Tea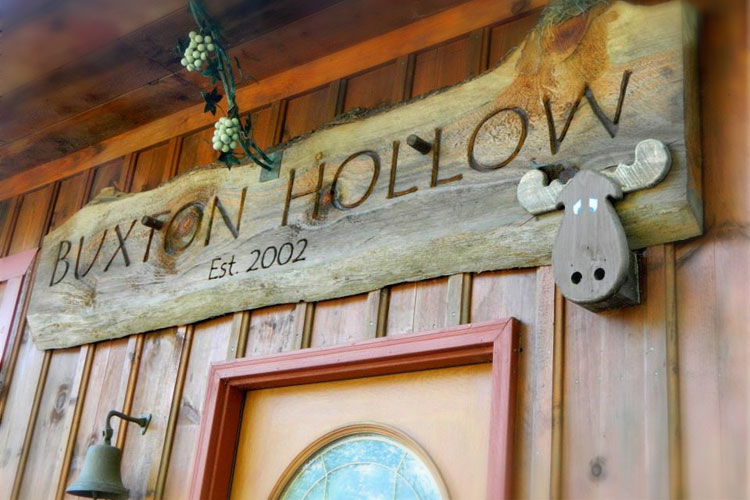 Buxton Hollow Farm is an 18th century family farm and a leading producer of certified organic compost tea. Today, the farm has evolved tenfold while replicating the Buxton Family Farm's nursery, gardens, and orchards generating large amounts of biodegradables. We are able to turn waste into an asset of compost, a product highly sought after by Organic farmers, gardeners, and landscapers.
Keeping quality and the safety of the environment as our main priorities, our farm converts compost into Buxton Hollow Farm® Compost Tea that is sold to natural/organic home gardeners as a powerful soil innoculant that provides a full spectrum of organic nutrients and minerals. With our innovative product, we strive to accommodate those who enjoy growing their own garden without the use of chemical fertilizers or pesticides. We are pleased to have developed a completely natural and quality product to aid the health conscious and environmentally friendly gardner.
The Buxton Family - Truly American Forefathers
Englishman Anthony Buxton immigrated to the Colonies in the early 1600's.  His 11th son Joseph 1663-1752 was born in Salem during the infamous Witch Hunts and grew up during the religious persecutions.  Joseph's Pastor, Roger Williams, suggested he take his family to the Northern Rhode Island area, a location that would provide the safety to practice their Quaker religion without persecution.
Grandson to Joseph, Captain James Buxton 1745-1817 was commissioned by John Hancock to serve under second in command, Colonel Benjamin Tupper (ancestor of Tupperware). James became a revolutionary war hero while stationed at Valley Forge during the infamous winter of 1777-1778 and again in the Battle at Saratoga. For his heroism and after the Revolutionary War, the Continental Congress awarded 300 acres to James. Today it is still home to Buxton Hollow Farm.
Birth of Slatersville & The Farm
Later in James' life, the Buxton Farm provided Samuel and John Slater the lumber for the floors and roofs for the first planned Mill Community in the United States. Over the years, as the Slatersville Mill Village grew, it eventually employed approximately 10,000 people. Buxton Farm provided farm products to support that work force and to the surrounding community. From then until the beginning of World War II, for over 200 years Buxton Farm was a true example of sustainable farming.
One of the two original Slatersville Mill buildings was designed specifically to employ children. Anthony Buxton (son of James) a great humanitarian became an opponent of the mill's terrible working conditions. He fought for what eventually became the Child Labor Laws that we know today. Anthony was also one of the very first to recognize the rights of the indigenous people forced to live and work in what were horrible conditions.
Organic Gardening Products